High torque bevel helical gearboxes RXO/800
The new range of bevel helical gearboxes sets a new standard in the market, having adequate sizing which ensures constant and optimum reliability in the toughest working conditions. This range is an effective response to the power transmission needs of medium-heavy and heavy industry. To complete the range, we also made the same gearboxes with very low ratios, leaving them free to be used in a wide range of applications.
Main features
High perfomances in continual use
Flexibility in applications
Full customization available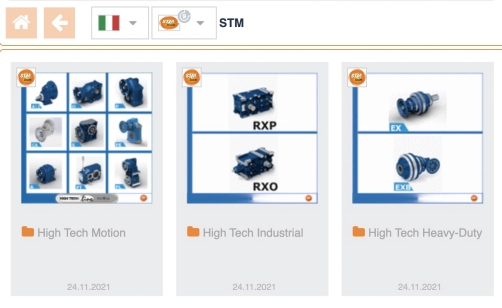 Catalogo CAD 3D: CADENAS
ll nostro catalogo prodotti e il configuratore sono presenti anche su CADENAS, il tool che permette di configurare e di scaricare gratuitamente i dati di progettazione dei vostri riduttori in oltre 150 formati CAD nativi e neutri.
Per accedere a questo servizio vai su:
RED BUTTON
Service
THE SERVICE THAT BRINGS US CLOSER TO OUR CUSTOMERS ALL OVER THE WORLD AND ENSURES FAST ASSEMBLY AND SHIPMENT.
The world of S.T.M. Services is now enriched with RED BUTTON fast delivery service, which was born to satisfy the urgent need of our customers to be supplied with our gearboxes, geared motors and speed variators.
If you have to face an unexpected problem, if your production suddenly stops, if your warehouse inventory is not enough to fulfill your demands, S.T.M. is there to help you with its RED BUTTON service! It will take us only from 24 hours (for products, the components of which are already in stock) to 72 hours (for big dimension gearboxes, the components of which are already in stock) to supply you with the products you need.
To request the RED BUTTON service, please write to: